Artificial flower magnolia trees
Artificial Flower Magnolia Trees are a very popular addition to indoor and outdoor decorations as they bring a beautiful and natural feel to any setting. These trees are usually made of high-quality artificial flowers and foliage that can maintain their beautiful appearance in any season and do not require regular watering and pruning.
The great thing about artificial flower magnolia trees is that they can be used anywhere, indoors or out. They can be used to decorate gardens, balconies, corridors, hotel lobbies, shopping malls, offices and homes and other places. They have a very realistic look and can add a natural vibe to any occasion.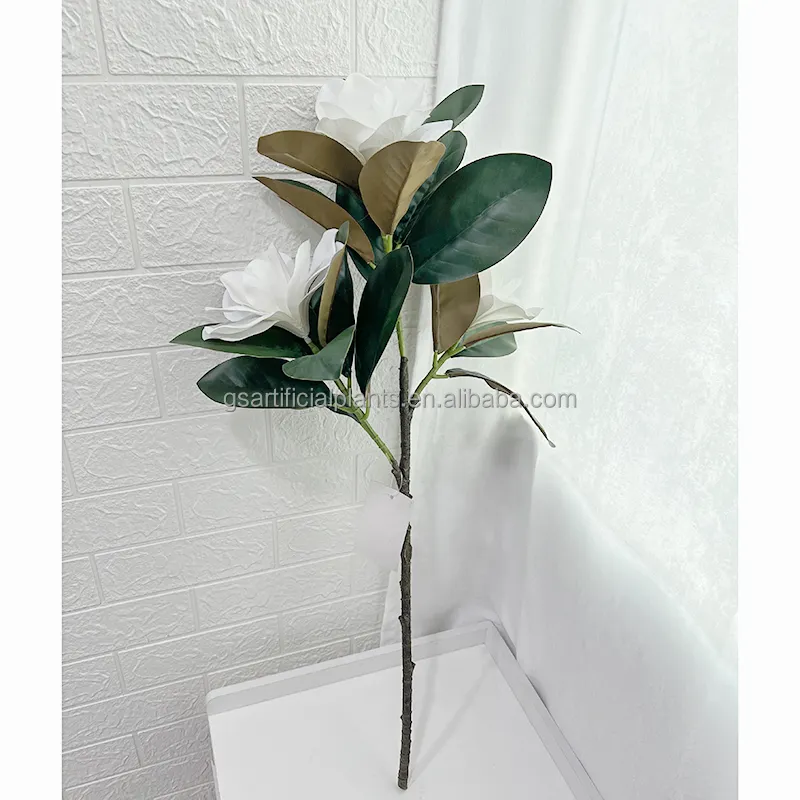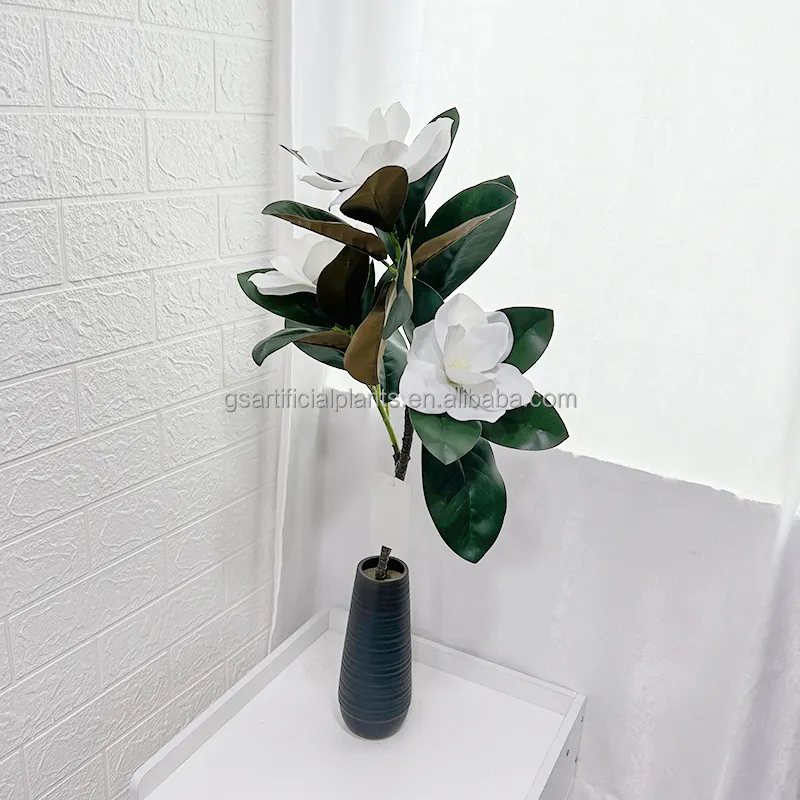 The artificial flower magnolia tree is usually made of high-quality silk and plastic, which can simulate real flowers and leaves, making the whole tree look very realistic. The height and shape of these trees can also be customized as needed to suit different occasions.
In addition to its beautiful appearance, artificial flower magnolia trees have several other advantages. For example, they don't require regular watering and pruning, making them a low-maintenance ornament. They also won't drop petals and leaves, won't cause allergies or asthma issues, and are suitable for both home and commercial use.
The artificial flower magnolia tree is very simple to use. They are often used as part of an overall decor scheme and can be combined with other flowers and decorations to create a beautiful and harmonious environment. Moreover, they can also be used alone as a stand-alone decoration to add beauty to a room or garden.
Overall, the artificial flower magnolia tree is a very practical and beautiful decoration that can be used in any occasion. Their realistic appearance and low maintenance requirements make them a very popular interior and exterior decoration. Whether in a home, business or public setting, artificial flower magnolia trees can bring a sense of beauty and nature to the environment.
Leaf texture is clearly visible, natural color transition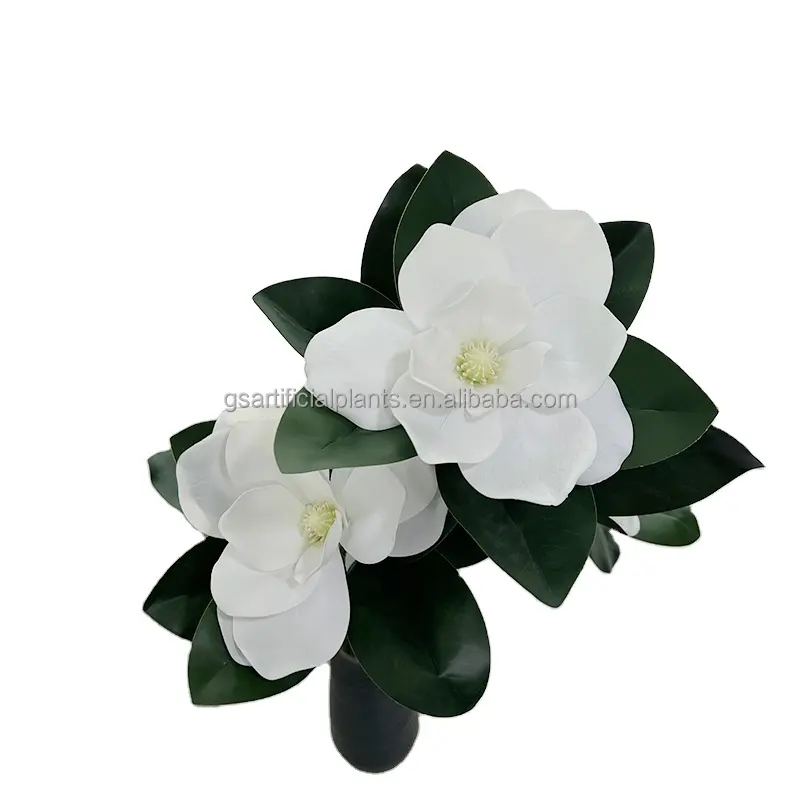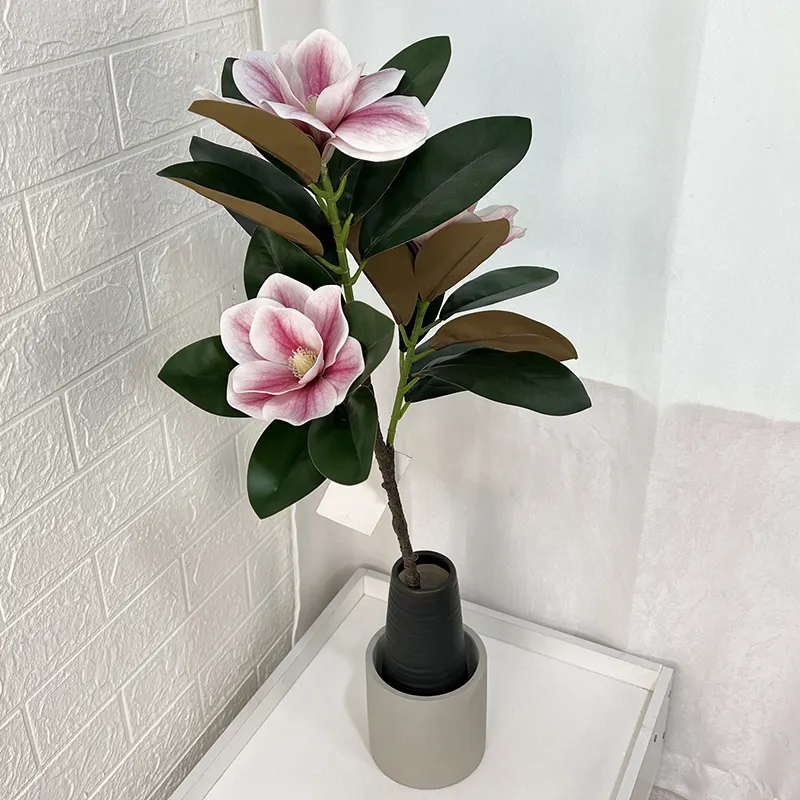 Artificial flower magnolia trees for garden indoor decor, smooth and simple flower pot, will not scratch the ground or desk. Cement injection, not easy to fall down
1. Logo: Logo can be customized.
2. General inspection on fixing before shipping.
3. Third party inspection: Acceptable.
1. Customer's requirement can be full guaranteed.
2. Every defective product or quality problem(beside the damage during transportation) can be replace in the next order.
3. Any defective product or quality problem which cause customer's losses can be compensated in their next order.
1. All products must go through five checks in manufacturing process.
2. Revelant material check before production.
3. Full check after every process finished.
4. Full check before shipping.
Artificial magnolia trees